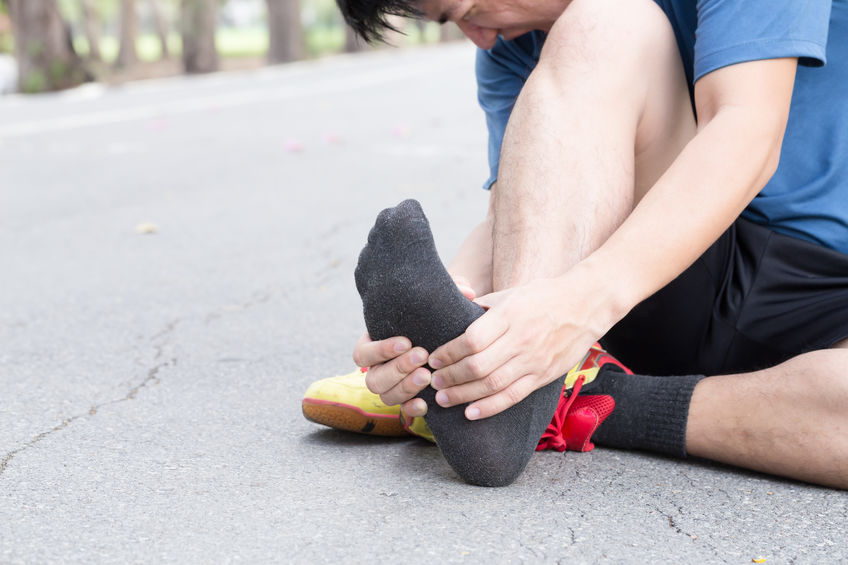 Plantar Fasciitis
The plantar fascia is a thick band of connective tissue that runs along the underneath of the foot from the heel bone to the toes. Its function is act as a shock-absorber that support the arch of the foot and guide the shape of the foot during walking and running. If the fascia is overstressed or tensioned, micro-tear will happen, causing injury and pain. This overuse injury of the plantar fascia is called plantar fasciitis.
Symptoms
Sharp pain on the bottom of your foot, sometimes going into your heel (usually worse in the morning, with the first few steps)
Pain is usually worse after exercise
Pain after long periods of rest, such as standing after a long period of sitting
Causes
Foot and leg biomechanics
Flatfoot (putting too much stress to the fascia)
Having a high arch ( lack of flexibility to shock absorb appropriately)
Tight Achilles tendon (affect your ability to flex your ankle and increase the risk of injury)
Abnormal pattern of walking
Intense Workout
Long distance running, ballistic jumping activities, and dancing
Occupations
Requires long hours of standing or walking, especially oh hard surfaces
Treatment
Ice or heat – Reduce pain level, promote tissue healing
Massage – Pain relief
Stretching – Improve flexibility
Strengthening exercises – Improved strength to bear weight, injury prevention
Taping- Relieve symptoms
Avoiding the aggravating activity – running, prolonged standing, etc)
You can call our center for an assessment to check if you are having a plantar fasciitis, don't wait for the symptoms to become persistent!
什么是足底筋膜炎?
首先, 先让我们了解一下什么是足底筋膜,它是由很厚的弹性组织所构成,位于脚底跟骨的前方,以扇形向前延伸分布在脚趾骨底下。其作用是支撑脚底的足弓,让我们在站立行走及跑脚部承受体重的同時,依然能维持足弓的形狀,在跑、跳等高刺冲击性运动时起了吸收地面反作用力的避震作用。但当足底筋膜承受过度的牵拉力的时候,就会造成筋膜有细微的撕裂,进一步形成劳损和疼痛。所以这种筋膜过度劳损的伤害,叫做足底筋膜炎。
症狀
脚底感到刺痛,疼痛通常会集中在脚跟(特别是早上起来脚刚开始踩地的时候脚跟会有剧痛)
运动之后的疼痛感受特别强烈
休息一段时间之后站起来会特别痛,像是维持一段时间坐姿后站起来
造成足底筋膜炎的原因
错误的足部或脚部的生物力学
扁平足(使得足底筋膜承受过大的牵拉力)
高足弓(柔软度不足,导致无法恰当地吸震)
阿基里斯腱太紧绷(限制了脚踝往上翘的动作,因为代偿方式导致足底筋膜压力上,增加受伤的机率)
不恰当的步态
过于激烈的运动
职业
一些需要长时间站或走的职业,特别是在站或走在硬的地面
治疗
冰敷或热敷 – 减低疼痛,促进组织修复
按摩 – 缓解疼痛
伸展运动 – 增加柔软度,伸展足底筋膜
肌力运动 – 強化肌力,使得能够承受重力,预防损伤
肌贴 – 缓解症状,放松筋膜
避免会导致症状恶化的运动 – 像是跑步,久站等
如果您怀疑您有上述症状,可以到我们的诊所来做一个更全面的评估,让我们的治疗师判断您是否真的患有足底筋膜炎,别等到症状持续恶化!